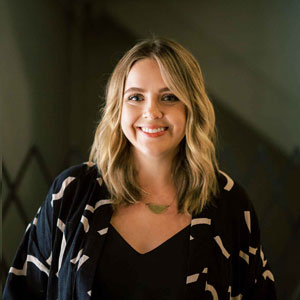 LinkedIn
Shannon Graves
CONTENT MANAGER
Shannon heads up the Stix blog, social media, influencer relations, and gets hands-on in everything content. If you've followed our social pages or joined in our #TeamStix Facebook community, you've seen Shannon's work.
LinkedIn
What's your background with golf, pre-Stix?
"The joke here is that I have the most golf industry experience without ever playing.

I was the public relations manager at Pebble Beach Resorts before COVID.

And in Lake Tahoe, I worked for a PR firm that specializes in golf and at the American Century Championship celebrity golf tournament I managed media relations, social media, and communications for the event.

We had Justin Timberlake, Steph Curry, Charles Barkley, Jeremy Roenick, some Bachelor guys… It's the tourney where all of the celebrities can cut loose. It was always a fun and wild week."
As a non-golfer, what did you think about the game before Stix?
"I loved my work but it's a hard industry to work in as a woman. It's an industry that's still steeped in old school habits and traditions - you get a lot of 'sweetheart' comments, and assumptions that you're a man if you're working in the industry.

But, I've always been passionate about championing more diversity, like integrating female golf influencers into marketing strategies. At Stix, we're not just catering to the stereotypical golfer."


What lights you up about your role with Stix?
"Really, it's the moments when we have real connections with customers. With Stix, in particular, it's a two-way relationship that's so much more genuine than you see with other brands.

We just launched our Facebook group and welcomed a few hundred members in the first week. It's a real community. They're talking with each other, helping each other understand what to buy and why Stix.

When social media is your profession, the negativity can get you down. Building the Stix community has reaffirmed my passion for social."
What are you most looking forward to with Stix?
"Just watching it grow. We launched in September 2020 and when Rick Shiels reviewed Stix clubs, it took off from there. It's like being on a rocketship.
I'm excited for a fully fleshed out product line."
What do you hope for the future of golf?
"I hope Stix can create a space for people who don't feel like they fit in the golf world.

Golf won't become more equitable and inclusive overnight. But we'll see more people representative of different backgrounds get into it, excel, and change the game for the better.

Our designer, Kyle, talks about how people are paring down. My generation doesn't want all of the things. We want a few good things, like Stix clubs, and I think that trend will continue.

On the environmental side, golf has to change, too. We need to be more responsible regarding the impact of the game on habitats and ecosystems.

Stix can help by making products that last, but as an industry, we collectively need to adapt or die. Which is why it's an exciting time to be working in golf — there's so much room for improvement and growth."