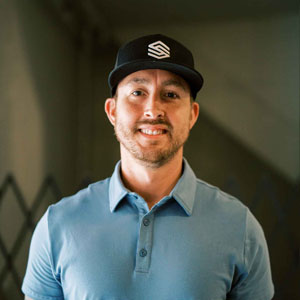 LinkedIn
Mike Tolkson
Co-Founder, Director of eCommerce
If you clicked your way through to the buy button seamlessly, thank Mike. If not, he wants to know what got in the way.
Mike's job is to pave the path to an easy online decision — to make sure the Stix site serves up the guidance you'd get in a physical shop.
A co-founder, Mike has been with Stix from the very start.
LinkedIn
What's your background with golf, pre-Stix?
"I played as a kid, caddied at the Medinah Country Club. Kept it up casually until a hiatus when we had kids.

My uncle was a big golfer and I used clubs he passed down to my father. They were from the 70s and made of actual wood. I still have them.

Between then and Stix, I bought an inexpensive, complete set and then a still-inexpensive compared to what's out there, but better iron set at around age 20. That's what I used until I started golfing with Gabe 15 years later."
Favorite course?
"Pottawatomie. It's an amazing municipal course designed by Robert Trent Jones Sr. It's on a river, scenic, and fairly wide open so it's easier for me to play. A close second is Arrowhead just outside Denver. Some incredible views there."
Best game?
"Last year during men's league, at my local club (The Hawk in St. Charles), my partner and I won low score for the week. I was using Stix clubs of course!"
Favorite Stix club?
"I love the hybrid. It's super easy to hit and usually goes straight and far."
How did your career path lead to co-founding Stix?
"Before Stix, I was at one company for 20 years. Started out working part time in the warehouse in school, graduated and worked across nearly every department.

About 15 years ago I saw an opportunity to develop the ecommerce channel and helped turn that into a major contributor for the company. It was fun to work in the early days of ecommece and watch the growth.
Career-wise, Gabe brought me in because of my ability to run a complex ecommerce operation."
What are some challenges you've faced and solved at Stix?
"In the beginning it was figuring out how to track and maintain inventory when you have multiple products with 30 variations each. That part of business was new to me.

And of course, making sure the website leaves no questions unanswered. Support is key, but it should be easy to make a decision from the information provided on the site."
What lights you up about leading Stix?
"Early on, we were promoting sets and individual clubs equally. It wasn't very clear which way we'd go.

But the resounding feedback from customers is that they need a whole set of clubs. That was a big moment, discovering that the customer we serve wants it to be easier to just get every club they need to hit the links."
What lights you up about your role with Stix?
"I love reading customer stories and reviews from people who have found exactly what they want in our clubs. It's my favorite thing to do right now. Seeing people experience incredible clubs that are far less expensive than other brands make it seem like they should be."
What do you hope for the future of golf?
"When it's easier and less expensive to get into golf, people will see how fun the game is — that it doesn't have to be a stuffy, privileged sport.

Golf is just a great time to be outside playing a game.

Now I play with my whole family, including my two boys, 8 and 11. As soon as they had the mobility and hand-eye coordination to hit, we got clubs in their hands. They surprise me with how good they are.

My wife hits some good shots, too, but it's not about how good we are — we just go, have fun, enjoy the outdoors and try to relax."