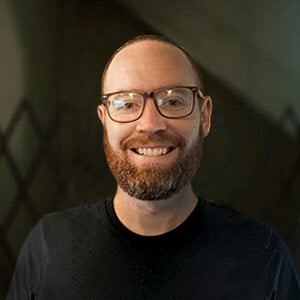 LinkedIn
Kyle Buzzard
Co-Founder, Head of Product
Kyle is a co-founder who leads the Industrial Design and R&D efforts for new products. He works to understand customer needs and closely with manufacturing to address them, inspecting samples and prototypes, and keeping close tabs on Stix quality.
LinkedIn
What's your background with golf, pre-Stix?
"I grew up playing with my Dad occasionally which was a big treat for me as a kid. He ended up giving me his old set of clubs and over the course of the next decade I picked up some more random clubs along the way.

I played in high school and college with friends as a hobby, and every once in a while while traveling I'd rent clubs and play better. I knew at that point that my old clubs weren't made for my game, but I didn't know where to go from there.

Because I'm a terrible golfer, justifying $2k for a new set didn't make any sense — but I didn't want an ugly bargain-basement set either.

Gabe was in the same situation. We couldn't find the clubs we wanted, so we decided to create them."
Favorite course?
"I've played at some beautiful, amazing courses but the most fun I've had was at the municipal Avon Fields in Cincinnati with roommates. Just scrapping it up with friends."
Best game?
"I have this Burger King branded golf bag and when I was doing an internship in Toledo, I played a course there alone.

A group ahead let me play through and I hit it within a couple of feet of the pin. Then tapped it in. They thought I was sponsored by BK — for five seconds.

The next drive I completely sliced into the woods."
Favorite Stix club?
"I love the putter. It changed my game. The weight and grip. Part of it could be confidence, but I'm putting way better since I switched."
How did your career path lead to co-founding Stix?
"After my degree in Industrial Design and internships, I began my career in the Bay Area at one of the top five design firms in the world.

As a design lead I managed projects for companies and startups including Google X, Chromecast, GE, Cisco, Dropcam (Nest), Merck, etc.

In 2013, I moved to Chicago to lead design for an entrepreneurial studio, bringing new products to market.

Startups are my passion, and so I co-founded an innovation group, Prota Ventures, which paved a path to co-founding startups, including Stix.

That background in innovation, electronics, lifestyle, and fashion gave me a perspective that I can now apply to golf — a category that's been traditional for a long time."
Any ah-ha moments with Stix?
"It's really this one core insight: that the technology big golf companies are putting into pro-grade clubs doesn't move the needle for the rest of us. In fact, it might hurt our games.

I knew we had to create a set of basics that works for just about everybody. To simplify everything."
Any challenges along the way?
"It's always about keeping quality as high as possible while capping the price. So style doesn't come at a huge cost."
What do you hope for the future of golf?
"We all share this vision at Stix of wanting to see the game made accessible. Open to more people. Less about tradition and more about fun.

Some of my favorite memories are of golfing. Memories with my Dad and with friends in college. Just this past weekend, I took my two little boys — they're three and six."

When you're out on the course, you connect. You put your phone away. You have meaningful conversations. We don't do that often and those are moments I've treasured.

You shouldn't have to care about improving your game. You should never feel intimidated stepping out on a course.

It's about socializing, enjoying nature, being active."