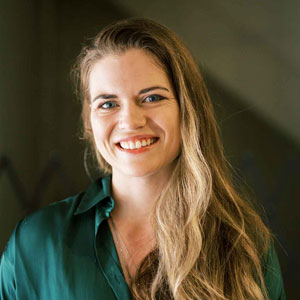 LinkedIn
Jennifer Dean
HEAD OF GROWTH
Jennifer joined in February 2021 to help take Stix to the next level of growth. She works closely with everyone on the team in a role that's equivalent to Chief Marketing Officer.
LinkedIn
What's your background with golf, pre-Stix?
"Zero. I played once, but gave myself a concussion because I swung the club too hard and smacked myself on the back of the head.

I'm a bit of a bruiser: all strength, no finesse. Without lessons, I'm just going to gorilla the ball.

When the Stix team talks about club specs, I have to remind them of how new I am.

But in that sense, I'm like so many of the customers Stix wants to serve. People who just love sports, being outside, hanging out with friends…

I never felt like I could golf because it's so exclusive. It's like I was waiting for an invitation.

Now I'm going to start at TopGolf here in New Jersey and I'm really excited to use Stix clubs."
How did your career path lead to Stix?
"I've always gravitated to startups. It's exciting to work on what's fresh and new. In a startup environment, there's no red tape — you can quickly handle problems.

One of my most interesting gigs was working for Cirque du Soleil. It was a legit circus in the office.

I love automating things so I can free up time and move on to the next challenge.

When Stix first reached out, I initially ignored it because I knew nothing about golf. But then Gabe checked in again and shared the Stix purpose, which really resonated with me. I met the team and it was an immediate go-ahead."
When you're not busy growing Stix, what are you doing?
"I'm an athlete. Five days a week, four hours at a time, I'm playing or training for roller derby.

It's not a "professional sport" as there's no money in it, but I'm a 6 time world champion. Even sponsored. I also travel the world to coach roller derby skills and strategies. I'm currently on the Gotham All-Stars team in New York City, where I primarily play as a Jammer.

Roller derby defies a lot of sport traditions and gender conventions. I look forward to seeing more of that in golf."
What are you most looking forward to with Stix?
"Making golf more inviting and equitable, so the cost and the culture don't keep people out.

The game has been exclusive for too long. I say, let in the riff raff. Myself included."