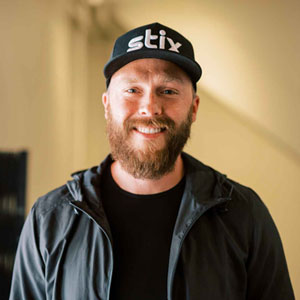 LinkedIn
Collin Duff
Co-Founder, Director of Operations
Collin is the co-founder who keeps the machine running. We call overseeing Operations, "the junk drawer position", because it's not glamorous but it's what keeps the lights on.
LinkedIn
What's your background with golf, pre-Stix?
"I'm the last founder to join and the only one with no background in golf. I got a lot of flack at first for not getting the game.

When the team brought me out to a course, I caught the bug. Now I get it. Golf's a blast.

There are Stix customers like me. People with the ability to buy and a bit of leisure time who, for one reason or another, just never got into golf before. Maybe they have expectations or perceptions of the game that held them back.

My first clubs were Stix and my first round of golf was at Green Lake. Once I started playing with the other co-founders, we'd play nine holes."
Favorite Stix club?
"I like the wedges and enjoy the three wood. The guys limited me to a certain number of clubs to master first, to get comfortable."
How did your career path lead to co-founding Stix?
"I'd tried my hand as an entrepreneur before Stix. Created something unique in Chicago with coffee. Even with COVID, it was successful.

Around the summer of 2020, Gabe reached out for operational help. Coming from an entrepreneurial world, joining Stix was an easy yes."
What are some challenges you've faced and solved at Stix?
"It always comes down to producing the best possible product at the best possible price. That is my job.

From supply chain sourcing, to costing, to working with manufacturers to ensure high quality — it's all in service of fulfilling the Stix value proposition.

From manufacturing to the customer's hand, we're always optimizing for efficiency. Other golf brands are charging 400% more and it's not necessary if you can deliver quality, efficiently.

Stix is putting money where it matters so customers aren't forced to overpay."
Any ah-ha moments with Stix?
"I spent a lot of time early on communicating directly with customers and realized how much they appreciate authenticity.

At Stix, we are our target market. We're average golfers who love the game, who want to provide great-looking, quality clubs at an affordable price.

Just being ourselves — being approachable, understandable, sharing our camaraderie — it's what Stix customers need."
What lights you up about your role with Stix?
"Talking to people about their game, expectations, budgets — it's the most important part of my job.

And getting the right clubs into peoples' hands. Experiencing the positive response is extraordinarily rewarding.

That's why we've made customer service part of the onboarding process for all new hires."
What are you most looking forward to with Stix?
"We're very excited to be on the verge of bringing out new products, in the works now for months.

I'm also energized by international opportunities. There's massive interest in Stix outside of the US. Our goal is to get to a place where we can fulfill internationally in a way that's not cost prohibitive because of taxes and shipping."
What do you hope for the future of golf?
"Golf is a game that knows it needs to change. What younger golfers are willing to spend, where they want to go, how they want to look — it's changing.

Golf needs to accommodate. On the product side, we see Stix as a forerunner of changes coming to the sport overall: changes in price, aesthetic and flat out transparency of the game. Calling BS when it needs to be called.

Golf has long been associated with a narrow socio-economic bracket. The whole sport has been set up to prohibit the vast majority from playing…

We want to help make it more inclusive and accessible, starting on the club pricing side."